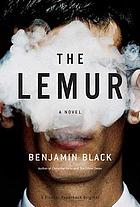 I prefer Benjamin Black to John Banville. Black is the name under which Banville writes his crime novels. Banville is much admired but I find him a little overwrought. His workings are too close to the surface, particularly in his early novels where fiction and pattern are among his themes.
I quite like Black's novels. They are well written, and he plots well enough for them to be plausible crime novels independent of the curiosity of the Banville connection. That said, I sometimes wonder if  his main interest lies in exploring the Dublin and Ireland of the 1950s. Banville has noted a Simenon influence and the website has a retro, grainy feel.  I also wonder whether the Black novels will be better remembered than the Banville ones in 50 years, as a record of those darker years before Ireland opened up?
The Lemur is short and a departure. Most of the action takes place in the US. It reads as if it was written with a movie treatment in mind, a knowing noir. It ends suddenly. I was interested to read it as I had wondered what Black would make of his Irish protagonist in the US. Not enough really.